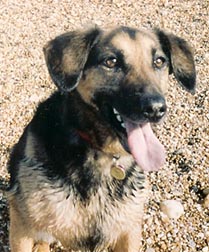 Bonnie chose us in February 1999. I'm not even sure we were expecting to pick a dog that day, but when we saw her in the kennel at Battersea Dogs & Cats Home we knew that she was going to become part of our family. A 3 year old Labrador/German Shepherd cross, Bonnie had been in Battersea for only 10 days. She had been brought there as she was found wondering the streets.
She soon settled in to our lives, and was even welcomed by our three cats… once they'd stopped sulking under the bed! With Bonnie we explored beaches and woods, chased leaves in the autumn and butterflies in the spring. Watching her bouncing through long grass with such an enthusiasm for life always brought a smile to our faces, no matter how bad the day had been.
Seeing her with other dogs we realised that as she was such a sociable girl, she should have a companion, and so Clyde joined us from Battersea in September 1999. He'd had a rough start to life, not helped by his two year stint in kennels. Without the help of Bonnie's strong, caring, no-nonsense temperament we would doubtless have failed to transform him from the nervous, aggressive dog he was into such a loving, relaxed character.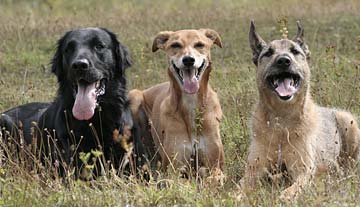 In March 2000 Bonnie, then just four years old, was diagnosed with chronic degenerative radiculomyleopathy (CDRM). We fought the disease together until that bleak day in November 2000. All the way through her tail never stopped wagging. Bonnie Dogs Dog Grooming was set up in her name in 2003, then in November 2010 Bonnie Dogs Opened a Shop and Dog Grooming Parlour in Bookham Surrey. Since Bonnie, there have been two new additions to the family pictured left; Lady (also from Battersea) and Diesel, the eternal Flatcoat puppy.
We finally are updating this page in August 2013, it has taken us so long to do as the memories of our three clowns living happily together for nine years just makes us too emotional. The three became two when Clyde at 15 years old was sadly put to sleep at home, he died peacefully in my arms in May 2011. Clyde was a dear old man he coped well with being deaf for the last two years of his life. In January 2011 the dementia he was living with started to affect his quality of life and over the next few months despite different drugs that did help, he seemed to slowly withdraw from his companions, lost weight and did not enjoy his walks. New places seem to confuse him so then we always walked a regular walk and this eventually did start to stress him out. Clyde loved his walks, so to see them less enjoyable for him was a sure sign that life was getting a little too much for him. So we talked to the vet without Clyde present this made it easier to be honest and open with her then arranged the day to say goodbye. The day before this date we took Clyde to his favourite place the beach, he came alive chasing the waves and running on the sand. He tired quickly but it was so good to see the young dog Clyde back enjoying life on his last day trip, even if it was just for a short period. Once Clyde had gently taken his last breath we let Lady and Diesel see him so they had closure. Diesel the typical Flatcoat and Clyde's best friend bought his toys over to Clyde and put them beside him once all the toys were in a pile Diesel gave Clyde lots of licks on his head then lay down beside us. Lady stopped as she walked past Clyde sniffed him all over then looked up into his face and just gave a gracious nod then also laid down with us all on the floor together surrounding Clyde there was not a dry eye in our home. Here is a picture of Clyde playing ball at the beach.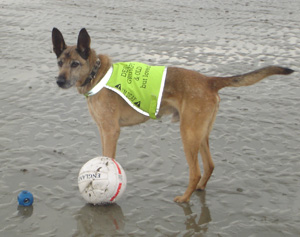 We were now left with two dogs that got on very well together and gave support to each other during the first few days of losing Clyde, Lady and Diesel were inseparable but did not show ongoing signs of grief. In January 2012 we decided it was time to get a new addition and as both Lady and Diesel were in their older years a puppy would be the best option rather than a rescue dog. A puppy would be accepted quickly and would fit into their way of life. So in March 2012 our pup was born and in May 2012 Legend the Flatcoat Retriever arrived. Diesel loved and warmed to him from the second he met him. Lady took a little longer but then found he was great fun and loved him chasing her round the shop. This photo shows Lady rolling Legend down the hill so he would chase her all the way up again!!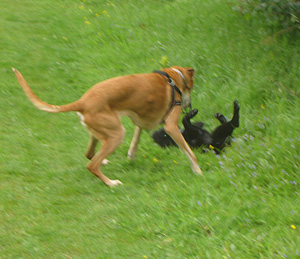 Sadly Lady had been battling with pneumonia since April 2012 and just after three weeks of Legend arriving in June 2012 her battle was lost, we decided the kindest thing to do was to let her fall asleep peacefully in my arms. Lady was 12 years old and gave us 11 years of fun. Earlier that day she had been on a train ride to the pub and was playing with Legend most of the day, we had no idea that later that evening we would be making such a hard decision she seemed well and fit. Diesel was present when Lady suddenly went down hill and before I moved her to another room away from the dogs, Diesel got up from his bed and licked her head just like he had done to Clyde. It was a bitter sweet time for all. Diesel did grieve it was so sad to see he was ignoring Legend and snapping at him when Legend just wanted to play. Diesel also carried round and slept with one of Lady's many hoodies for some weeks. But Diesel bounced back and got himself through what he was feeling and we think having Legend was the best thing for Diesel because it gave him a purpose to live on.
Diesel and Legend had another year together and what fun did they have, they went on holidays explored new walks, pubs and met lots of people and dogs along the way. Diesel taught Legend how to be a gentle loving soul as he was, how to greet customers at the shop with a smile and of course a big lick, he also taught him lots of naughty things too, like how tasty cardboard was amongst other things! In February 2013 Diesel was diagnosed with a Paralysed Larynx and had surgery which was an instant success. It allowed him to breath normally and gave him a new lease of life. He started to run and play like a young dog again, without this surgery we would not have enjoyed him and life with him for another five months.
It was a normal day, Diesel ate all his breakfast and we went to work at the shop. Diesel and Legend were doing what they always do in the office, watch this video. They were playing in the stock room and doing Andrex puppy advert impressions with the loo roll then suddenly Diesel went to his bed and his breathing was very heavy. Within minutes he was being rushed to the vet. When we arrived it was becoming obvious that his body was starting to shut down and we were about to have to say goodbye. The vet found a mass on his spleen there were options but we were not going to put him through any more to have him for six more weeks at best. The vet gave us the time we needed to say our goodbyes and I still do not know where Diesel found the strength but he lifted his head and licked my face all over, as if wiping away the tears I had cried before stopping them to say goodbye. This memory will live with me forever and reassure me that I made the right decision at the right time. Diesel peacefully took his last breath in my arms at the age of 11.
I will always remember many years ago when talking to a customer about the loss of Bonnie she said to me 'you can not be selfish, always know when to say goodbye. A week too early is kinder than a day too late'. Dogs give us so much we must always give them the right choice, it is one of the bravest and hardest decisions to make but always do it at the right time when your dog still has quality of life.
I can not thank Bonnie enough for being our perfect first rescue dog that you could take anywhere with a huge smile on her face always willing to please and such a cuddle monster. Clyde for coming through the confusion of life after his rough start as a long stayer in Battersea. I will always remember those special cuddles Mr C and your cheeky little side. Lady the dominant one, always centre of attention especially when the camera was out posing for new products for the website, but such an affectionate loyal dog that always made you laugh. Lady was our third Battersea Dogs Home Baby. As for you Diesel our first puppy who became the boss, you did it with such grace and calmness keeping an eye on them all. Diesel you always slept with one eye open looking out for me too. Such a loyal pleasant perfect dog. Together they gave us fourteen years of joy, we hope they are all playing and chilling out together. We now have so many wagging tail memories we were blessed to have had them and feel very honoured. This photo was taken four days before Diesel died. This is Diesel and Legend at the Bonnie Dogs Party to celebrate 10 years of trading thank you Diesel for being there.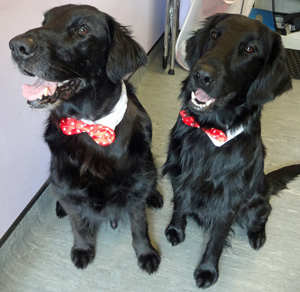 As you can imagine loosing one dog every year for the last three years has been so hard to deal with. But we still have our very precious Legend to look after, sadly he is not coping with being on his own. He spent three days searching the car, shop and home for Diesel, he struggles to eat and has now lost over 2kg in three weeks. Legend has stopped initiating play with us and has cried some nights all night long and generally just seems stressed. We are keeping him to the routine and making sure he is busy with doggy play dates, new walks and plenty of cuddles with out spoiling him but it is not working. Legend is grieving very badly and the vet can not find anything wrong physically so has also put it down to loosing his 'safety blanket'. As hard as it is we think a new companion is the only answer as it was for Clyde when Bonnie died he did the same as Legend and the vet back then told us to 'get him a friend before he dies of a broken heart'. We are scouring the rescue centres for the right match for Legend. Whoever or whatever this new dog is it will never replace any of the others but this might well be the start of a new gang of clowns, we will keep you updated.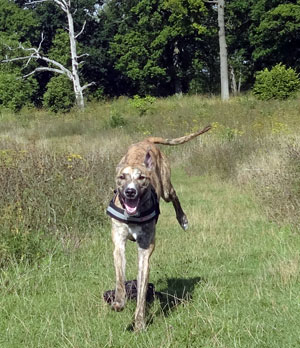 It is now November 2013 and we are pleased to announce that Legend has a new companion. In August 2013 we took another trip to Battersea Dogs and Cats Home in London to take Legend to meet his possible new friend. It was a bit tense as these two dogs needed to get on and in the end it was Legends decision. They were introduced in a large outside space at the home and got on from the second they met. There was a bit of rough and tumble play but eventually it started to calm down. It was decided that Bobby Dazzler as he is now known would be coming home and be Bonnie Dogs newest staff member. This was just what Legend needed to help him get through his grief. Legend started eating straight away and being the naughty, cheeky dog we had missed since Diesel's death. Daz as we now call him is a Lurcher and sadly has had a rough start in life. We are his fifth home and he is not even two years old, so he has a little baggage but we are working with him to learn to trust again. Daz has taken a little time to settle in with us but he is starting to enjoy the freedom of running, learning to play and is so welcoming with the four legged and two legged customers at the shop.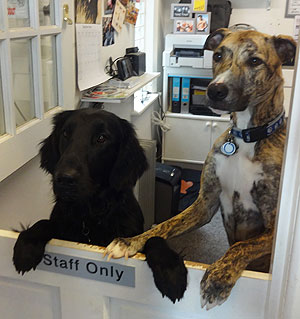 Legend and Daz after a few days of being together were sharing a bed and forming a strong bond. They have been on holiday together. We hope that Legend and Daz continue to have a great friendship and long life together. To keep up to date with Legend and Daz's antics and any news here at Bonnie Dogs why not follow us on Twitter, subscribe to us on YouTube or like us on Facebook.
From the Bonnie Dogs Team